How big is the Potential of the Chinese Luxury Retail Market?

August 29, 2012
Today, China's biggest cities have a similar number of designer luxury fashion and jewelry stores per capita as developed countries do. The number of luxury watch stores is even higher. Beijing and Shanghai, for example, have as many luxury point-of-sale locations per capita as New York, and China's Tier 2 cities are catching up.

In recent years, a rapid expansion of all major high end retailers has been witnessed in mainland China. From 2005 to 2011 alone, the number of stores of many luxury brands in the country has more than tripled. The chart on the right gives an indication of how much luxury brands have been expanding - Louis Vuitton and Gucci have opened more than twenty stores in mainland China in the past five years, while Hermes has opened 15.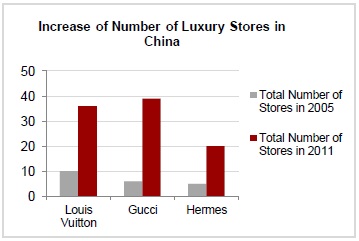 Source: McKinsey
Many people are wondering, however, how much the Chinese luxury retail market is going to grow in the next years, and whether it can maintain its predicted growth rate of 15% annually. This concern is mainly caused by new online sales channels and the increasing ease with which Chinese customers can travel and purchase abroad. McKinsey published an interesting report in 2011 (Understanding China's Growing Love for Luxury) comparing the number of stores between China and Japan. Since China is expected to overtake Japan in luxury retail sales by 2015, such a comparison is plausible. Market leader Louis Vuitton has closed the gap and has a similar number of stores in both countries. Most other retail brands, however, still have a fair way to go. In 2009, Chanel had only eight stores in China while operating 50 in Japan, while Hermes had 20 in China and 45 in Japan. If the Japanese market is an indicator, the Chinese luxury retail market is far from being saturated. Furthermore, luxury retail brands are continuing to announce their local expansion plans.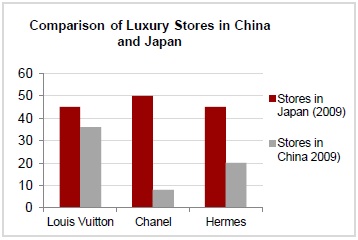 Source: McKinsey
Luxury jeweler De Beers told the media they would open five new stores and upgrade existing facilities in China in 2012 and Coach has announced that they will open an additional 30 stores in Greater China this year. While most of the high end retailers focus on China's biggest 15 cities, McKinsey predicts that cities with considerable pools of luxury goods consumers will increase from 30 to 60 cities over the next five years.
> back to top of page